For "Colt's Revolving Belt Pistol of Naval Caliber." To avoid stepping on the excellent current thread, "Rollin' My Own," I'll share my experience here with making non-nitrated paper cartridges in .36 caliber, hoping it may be of use to others. Loosely-loaded conical bullets hadn't worked well for me in the past so I wished to try roundballs and learn cartridge-making at the same time.
Three hardwood dowels were needed; one became the form for the paper envelopes, the second became a reamer for the loading block, the third, a burnisher for the tapered holes made by the reamer. To begin, a length of mulberry was split and the resulting pieces roughed out with a broadhatchet.
With the aid of a stop clamped in the bench vise, the better pieces were brought to square with a plane.
Both ends of a used hacksaw blade were ground to the desired cartridge profile, their dimensions identical; one served as a pattern during the project and the other became the reamer cutter. The slot for the cutter is sawn before planing to shape.
To determine the cartridge profile, I used 1.114" as the finished envelope length (chamber depth for my revolver), .375" for the envelope's large diameter (chamber mouth diameter), and .270" for it's small diameter. A slight relief was honed on the cutter, it was epoxied in it's slot, and a Q-tip and lacquer thinner were used to clean up the inevitable excess.
A handle was attached to the reamer, and the burnisher and forming dowel were finished with files. A digital caliper was used for all measurements, the hard, fine-grained mulberry lending itself well to precise tolerances.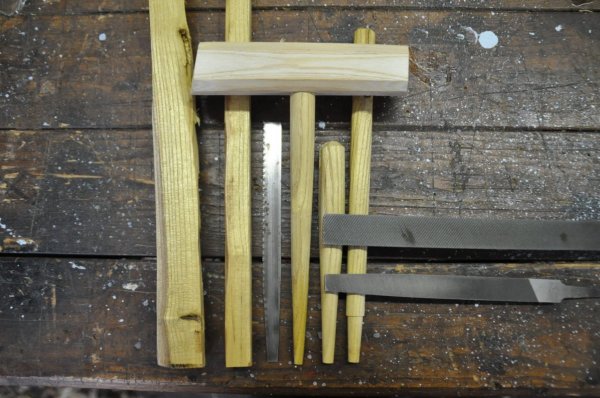 We're just starting to have fun! Loading block is next...