Joined

Jun 10, 2019
Messages

3
Reaction score

1
Hello,
I am new here and recently came into possession of a family heirloom that I am hoping some poster might know something about.
Here's what I've been told:
My ancestor first came to North America as a Hessian soldier. He surrendered with the British Army at the Battle of Saratoga, was paroled, and eventually settled in Canada. While in Canada, he was issued a "Brown Bess" musket for service in the militia, which his son carried in the War of 1812, and which has been handed down, generation to generation. At some point, the musket was converted from flintlock to percussion.
Looking at the rifle, it has a few interesting marks.
The butt plate is marked "D 23". Does that refer to a company and regiment?
There is a very faint mark on the barrel, near the lock, which looks like an "X".
The word "Tower" appears behind the hammer.
Under the hammer, there is a crown with "GR".
On the butt stock, there is a faint drawing of a British red ensign, which I cannot identify. The Union Jack on the ensign appears to be post-1801, as it looks like the St. Patrick's Cross is interposed on the St. Andrew's Cross. However, I am unfamiliar with the seal that appears in the field of the ensign. Perhaps it is a regimental color?
Anyway, here are some photos. Any help with identification would be much appreciated!
Thank you for taking a look!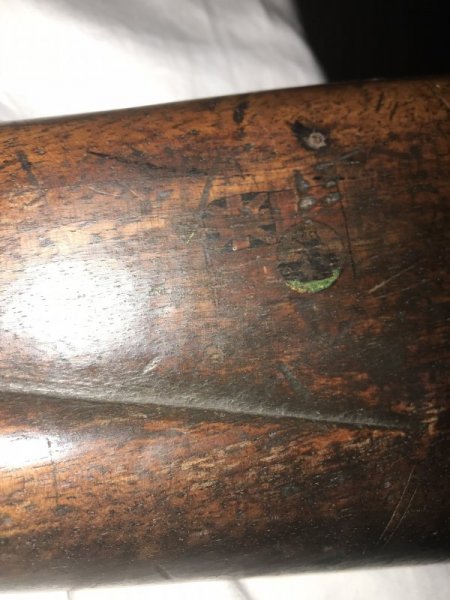 Last edited by a moderator: