Joined

May 15, 2011
Messages

3,172
Reaction score

1,863
Location
I think this is bag number 7. Could be #8, can't remember.
Some may remember my "craft store challenge" bag. Well, I wound up really liking that bag, but, the materials were really bugging me as I try harder and harder to get my clothing and gear as close to pc/hc as my budget will allow. Time to make the same bag with better materials.
We can call the "craft store" bag a prototype I guess,
The prototype,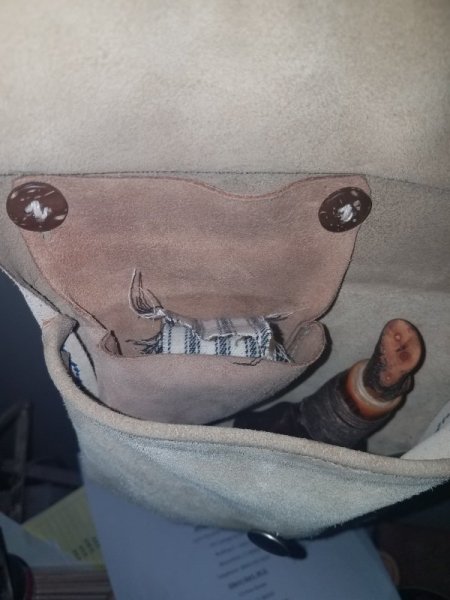 I really like the hanging pocket.
So, after a few setbacks and delays, I finished the better version today,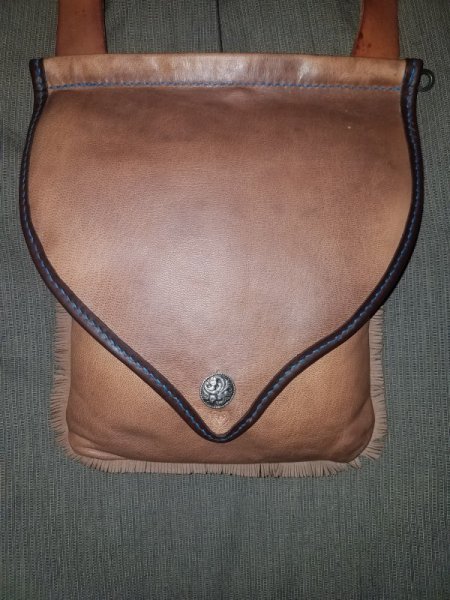 Comparison,
Photo taken before I realized the flap looks much better with some sort of edge binding or trim.
The 1st bag I had used blue twill tape. The blue didn't look as good against this leather so I used a very thin brown leather.
Materials used; 2 or 3 oz veg. tan goatskin leather for the bag. 3 or 4oz cowhide for the strap, brass buckle, hemp thread, thin cowhide leather trim, metal button, beeswax, pure neatsfoot oil, pure mink oil.
No dye was used.
After some negative experiences getting welts to line up properly I left this one over-wide until the bag was stitched and turned intending to just trim it to size. Decided to try snipping it into fringe, really thinking I wouldn't like it but could then trim it off. I actually do like the short fringe.
A couple other goofs occured, but, they are livable or were corrected with a little thought and patience.
Thanks for looking.